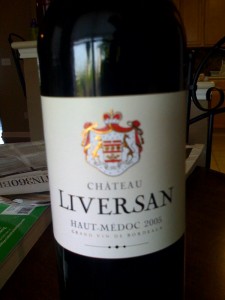 Producer:  Chateau Liversan (Domaines Lapalu)
Grapes:  50% Merlot, 49% Cabernet Sauvignon, 1% Cabernet Franc (that is according to the label; I find different %s in different places online)
Appellation:  Haut-Medoc (AOC), France
Vineyard:  96 acres; gravel limestone on a chalk subsoil acts
Aging: 12 months in oak
Alcohol:  14%
Production:  20,830 cases
Price:  I believe I paid around $15 at Costco.
Tasting Notes:  Nice dark color. Nose starts off pretty tight. With time I pick up some blueberry, whiskey barrel and a definite lotion-y smell. (Not some fancy herb-infused botanical beeswax aromatherapeutic stuff, but basic Curel or something.)  On the palate, it's a little thin and angular for me. The tannins attack my tongue, almost sealing off my taste buds to prevent them from tasting any fruit that might be hiding in there.  I pick up very little else; maybe some cranberry and some graphite. Finishes very dry.
Assessment/Score: Hmm. The nose is pretty cool once it opens up, but it's just tight tight tight in the mouth. Definitely not "delicious", but seems like it would do better with more time in bottle. For drinking right now, I have to go with C+.
Free association:
Wine Spectator (85 points): Mineral, blackberry and licorice aromas follow through to a medium body, with firm tannins and a medium finish. A bit simple on the palate, but pleasant. Best after 2010.
Lots of other tasting notes at Cellar Tracker.