This is part 3 of my Unoaked Chardonnay series. Previous entries:
Part 1 – Clos LaChance Unoaked Chardonnay 2007 Monterey County
Part 2 – Toad Hollow Unoaked Chardonnay Francine's Selection 2007 Mendocino County
Four Vines Naked Chardonnay 2008 Santa Barbara County

I originally intended this to be a 2 bottle series — just pick up two readily available unoaked Chardonnay's and do a little compare and contrast. I was a bit disappointed with both bottles so I decided to extend the series. I stopped by Whole Foods (the flagship location at Austin HQ) and grabbed two more.
Producer: Four Vines
Grapes: 100% Chardonnay
Appellation: Santa Barbara County – one of the southernmost regions in California yet one of the coolest.
Vineyards: (from the winery) "Fruit is harvested from three south facing hilltop vineyards in the Cat Canyon in Northern Santa Barbara: Los Alamos, Loma Verde and El Camino." Cat Canyon is in the unofficial sub-AVA of Los Alamos Valley. Info on Los Alamos Valley here and here.
Winemaking: Stainless steel fermentation, no MLF (malolactic fermentation), some aging on the lees.
Alcohol: 13.9%
Price: $13
Package: Screwtop closure. Label is a bit dull, they certainly could have done more with the Naked concept that they seem to have trademarked. Oh wait… if you look closely at the vines on the label and unfocus like you're looking at one of those Magic Eye books you can see they they were drawn to look like four dancing naked women. A little too subtle, guys.
My tasting notes: Now we're talking! Bright green apple aromas leap from the glass, with a hint of allspice maybe. More green apples on the palate, with a little pineapple juice. This is what I was expecting from these unoaked Chards: bright clean fruit, crisp and refreshing, while still rounder and more voluptuous than Sauvignon Blanc, Pinot Grigio, Riesling, etc. Nice. I think the cooler climate of Santa Barbara, and Los Alamos/Cat Canyon in particular, makes a big difference.
Overall assessment: A bit one-note perhaps, but delicious. Would be great for a party, Naked® or otherwise. B
Free association: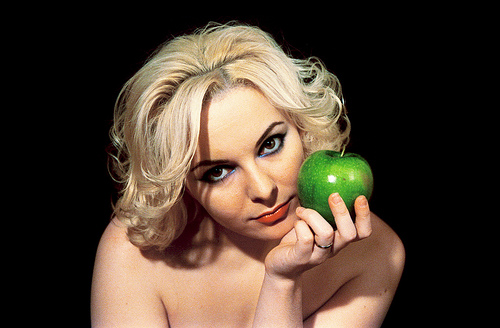 Photo credit: http://www.flickr.com/photos/jjsphoto/ / CC BY-ND 2.0
Other info:
Winery's tech sheet.
CellarTracker tasting notes.
A review from KensWineGuide.com