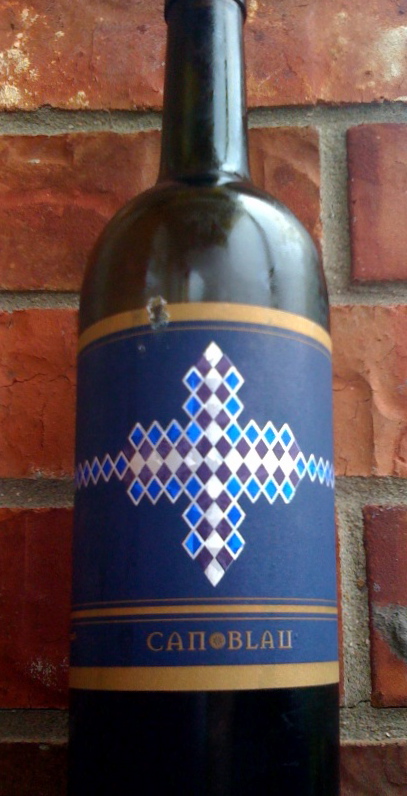 Okay, maybe you're getting tired of me posting about Montsant, but I'm going to keep trying them as long as they keep impressing me. Let's check this one out.
Producer: Cellers Can Blau.  (This wine also bears the label of Jorge Ordoñez Selection, though Tempranillo Inc. is listed as the importer.)
Grapes: 40% Mazuela, 40% Syrah, 20% Garnacha. (Mazuela is a synonym for Carignan, which I was unaware of until researching this post.)
Appellation: D. O. Montsant (Spain)
Vineyards: The Mazuelo was planted in sandy clay, the Syrah in chalky soils and the Garnacha on slate, known as llicorella [from the label]
Winemaking/aging: no info
Alcohol: 14%
Packaging: Beautiful diamond pattern on the label. Looks like an inlaid marble floor you'd see in a palace or something. Real cork closure.
Price: $14
My tasting notes: Nice dark color. Cedar, beef jerky and blueberry on the nose, with some of the alcohol showing through. On the palate, this wine has an inky, dry, slightly stemmy core laced with ripe mixed berry fruit that disappears quickly. Finishes very dry and tannic. This wine throws quite a bit of sediment as well. (It got a bit rounder and more balanced on day two, so I'd recommend decanting this one for a few hours.)
Overall assessment: Interesting how this blend comes together, you get the tannic backbone of the Mazuelo/Carignan, the cedar and meatiness from the Syrah and the Garnacha delivers some fleshy fruit (though not enough, I think). At least that how I imagine the components working together. In the end though, I didn't find this as satisfying as I'd like. The hollowness of the mid-palette left me hanging, wanting more depth. B-/C+
Free association: The name Can Blau makes me think of this song from Bob Schneider called Blauu.
More info:
Apparently most people liked this wine more than I did, so maybe you will too. It makes me question myself when I see so many gushing reviews of a wine I think is good but not special. But, hey, I gotta call 'em like I see 'em.
Stephen Tanzer gave it 91 pts and Robert Parker gave it 90 pts.
Other blogger reviews at Serge the Concierge, The Rhone Report, and BlogRoom.
More tasting notes at Corkd and Snooth. More people on CellarTracker shared my thoughts on the hollowness of the wine.