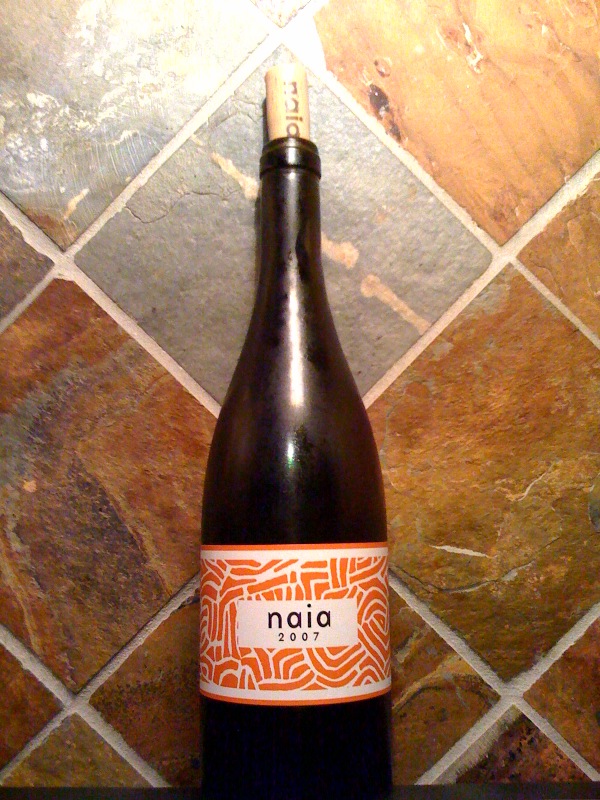 After having a very nice Rueda Verdejo last week, this bottle caught my eye when I was at the wine shop. I opened it for tonight's penne with pesto, potatoes and green beans.
Producer: Bodegas Naia
Importer: Jorge Ordonez – If you're ever stuck at a wine shop and not sure what to get, head to the Spanish section and look for this logo on the back label. (Any wine he imports is worth a shot.)
Grapes: 100% Verdejo
Appellation: D.O. Rueda, Spain (map). The home of Verdejo.
Vineyards: no info
Winemaking/aging: no info
Alcohol: 13%
Price: $11
My tasting notes: A little waxy on the nose with lemon, faint tropical fruit and a little metallic twang. On the palate, I get more lemon, unripe peach and a little spice. Good mouthfeel, it finishes with nice acidity without being tart.
Overall assessment: Not bad at all. It's a good crisp white wine that'll go well with lots of food. (It was nice with the pesto pasta dish). If you're looking for a Rueda Verdejo, though, I like the Valdelainos better. B-
Free association:
More info:
Gary V. tasted this wine on WLTV. Also, check out the episode with Jorge Ordonez.
Wine Enthusiast gave this wine an 88.
23 tasting notes at CellarTracker and 3 at Corkd.