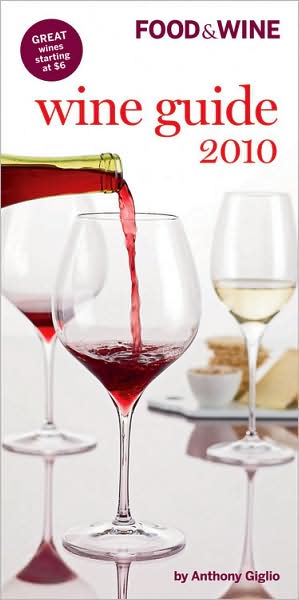 I picked up the Food & Wine Wine Guide 2010
the other day. I've always enjoyed these guides and have picked them up every other year or so. For each major region they provide an overview of the style of wines produced along with recommended wines and tasting notes. It's necessarily general given that it's trying to cover so many regions and remain a "pocket" guide, but it's a good browsing book. In fact I used to keep one in my car and would glance at it when stopped at red lights! (I like Oz Clarke's pocket guides, too.)
But the reason I'm posting about it today is the way the guide handles price categories. Each wine noted in the guide (and remember they're all recommended wines) is labeled to indicate quality and price. The 2010 guide uses the following categories:
QUALITY
★★★★ OUTSTANDING Worth a search
★★★ EXCELLENT Top-notch of its type
★★ VERY GOOD Distinctive
★ GOOD Delicious everyday wine
PRICE
$$$$ OVER $60
$$$ $31 to $60
$$ $21 to 30
$ $20 and under
So what surprised me about this is the bottom price range. $20 and under is the starting point now? I don't know about you, but I do the bulk of my wine buying in that range. In fact, I'd say $15 is my usual threshold for everyday wine. So for me, and I suspect most wine buyers, lumping $20 bottles in with $10-12 bottles isn't very helpful. I should reiterate here that they do not provide a specific price for each wine; they only indicate if it's $ or $$ or $$$ or $$$$.
I think this is especially puzzling given that at the beginning of the guide, in a section called "The Year in Wine", they highlight the trend toward bargain wines:
Demand for wines priced over $50 dropped precipitously … while bottles priced at $10 or less soared in popularity – accounting for fully 66 percent of the U.S. wine market's estimated $30 billion in annual sales.
So given that, why wouldn't you distinguish between $10 bottles and $20 bottles? Who do they think the audience for this book is? I mean, they sell it in supermarkets. (That's where I bought mine.) If someone sees that they recommend the Long Boat Sauvignon Blanc 2008 Marlborough (★, $) then looks for it in the shop and sees it's $18, I suspect most would no longer see that as a bargain.
I went back to my guides from previous years and see that they were using $15 and under as recently as the 2008 guide (I don't have the 2009). That seems like the right point to me. Especially when many of the $ wines are also ★. If one-star wines are "delicious everyday wine" but not "distinctive", I don't want to be plopping down a twenty for them.
Question: So what do you think? Is $20 your low-end threshold? If not what is? Please leave a comment with your thoughts.