I should have known better than to buy this wine. I generally avoid wines with such gimmicky names/labels. But a few months ago I was planning a series of posts on Lodi old vines Zinfandel and was picking up just about every bottle of it I saw. I realized later that this one doesn't say old vines on the label, so I didn't include it in the series.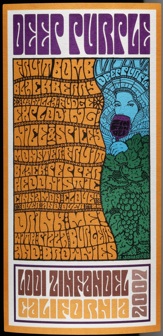 Producer: Deep Purple
Grapes: Zinfandel (it's not stated on the label or fact sheet if it is 100%)
Appellation: Lodi (on the website they note that Lodi is "a totally respectable wine growing area mentioned in a Creedence Clearwater song")
Winemaking: 8 months in French and American oak.
Alcohol: 13.9% on the label (13.6% on the fact sheet)
Price: about $12
My tasting impressions: In terms of color, "deep purple" it is not. I'd call it light-to-medium color, certainly not inky dark. The first whiff of this wine takes me back to 4th grade. Did you have a slot-car track when you were a kid? Well, remember when, after about 50 laps around the track, you'd get this overheated, metallic smell? That's what I thought of when I first smelled this wine. (An overheated blender smells about the same, but my mind when to that slot-car track first.) That blows off after a short while and the (somewhat candied) bright berry aromas come to the front. There's a bit of vanilla and green pepper, too. On the palate, it's medium-bodied with plum and cherry flavors and a slight herbal edge. Needs some acid.
Overall assessment: In the end, I find this to be a rather simple wine. Expectations play a big role in how satisfied you are with a wine, I think. Based on the name Deep Purple and the wild label with words like "Monster Fruit", "Exploding" and "Hedonistic", I was expecting something much different. While it has plenty of fruit (if you don't mind the candied sort), it's not a big, bad, hedonistic experience. C/C-
Free association: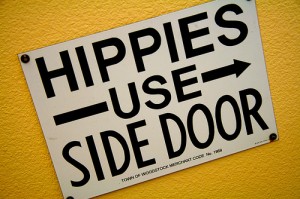 Photo credit: http://www.flickr.com/photos/jeremybrooks/ / CC BY-NC 2.0
More info:
Other reviews at Cork'd, Gabe's View (via Bullz-eye.com) and Top Wine Values.