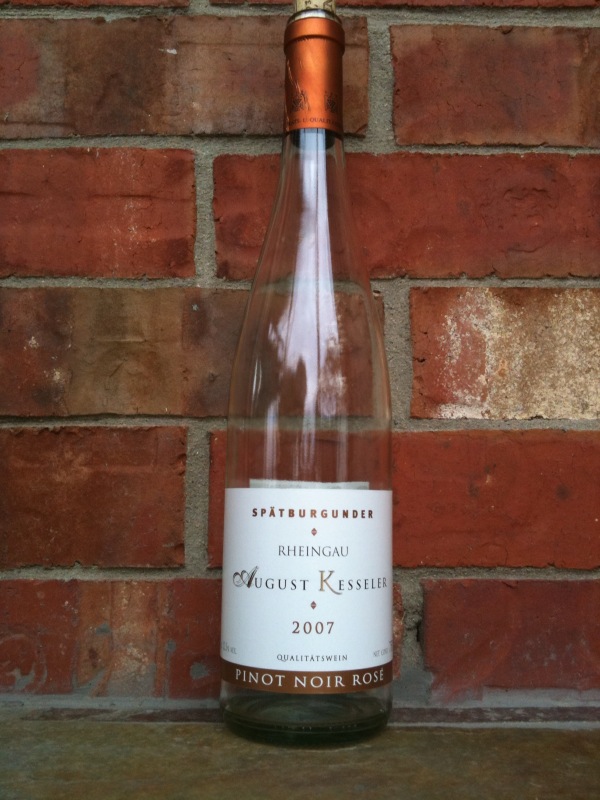 Most people, myself included, think of white wines almost exclusively when they think of Germany. But they do make wine from red grapes – in particular Pinot Noir, known there as Spätburgunder. In fact, according to The Oxford Companion to Wine (3rd edition, 2006), Spätburgunder is Germany's third most planted variety and totals over half of the acreage of Riesling. This bottle is a rosé of Spatburgunder.
Producer: August Kesseler
Grapes: 100% Spätburgunder (aka Pinot Noir)
Appellation: Rheingau (Germany)
Vineyards: Assmanshäuser Höllenberg – The vineyards are on south- and southwest-facing slopes with soils of "heat-storing slate-phyllite." The vineyards includes vines that are up to 100 years old.
Winemaking: This rosé wine is produced via the saigné method. During the production of the winery's normal Spätburgunder, some of the juice is drained off during skin contact to improve the quality of the red wine. That drained-off juice becomes a rose – a lovely byproduct.
Alcohol: 12.5%
Price: $16.78 at Spec's in Austin
My tasting notes: The unusual color is one of the things that drew me to this bottle on the shelf. It's very pale and I wouldn't describe the color as pink so much as 'light brown' – okay maybe copper is nicer way of saying it (sorry no pics before the bottle was empty!).  The nose was rather closed, I had trouble picking up much beyond a general sweetish-wine smell and maybe some strawberry. On the palate, it offers up a pleasant candied apricot flavors and a bit of lime, with an undercurrent of stony minerality. It has 24.4 g/l of residual sugar, so it is sweet, but for me the acidity balances it well and it finishes clean.
Overall impression: A perfectly nice medium sweet rose. Definitely worth a try if you want to experience a different side of Germany, though I'd be more enthusiastic if it were $5 cheaper. B-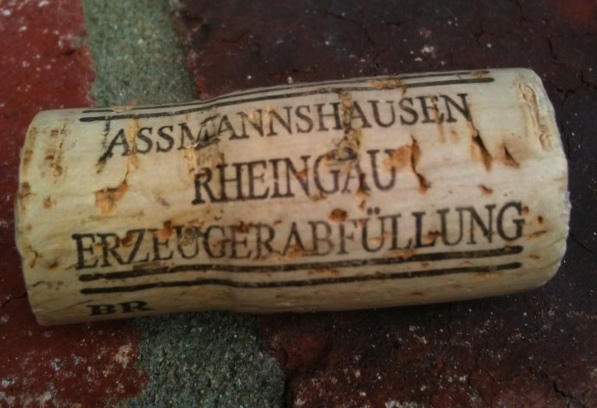 Free association:
More info:
The importer's tech sheet.