I don't know what it is about me and Lodi Zin. I did a series on Lodi old vines Zin a few months ago and only really liked 1 out of 5. Zinfandel has always been one of my favorite grapes, but maybe my palate has shifted away from what these moderately-priced examples can deliver – maybe especially from a hot climate like Lodi. Yet, I keep wanting to give it another chance so I picked this one up recently. Apparently Parker gave this one a 90 and it was around $12 so I thought it was worth a shot. The gimmicky name should have helped me steer clear, but alas, it did not.
Producer: Michael~David Winery
Grapes: Old vines Zinfandel "blended with small amounts of Petite Sirah and Petit Verdot" (no %s specified).
Appellation: Lodi (AVA, California)
Vineyards: Blended from 7 Lodi growers.
Winemaking: aged in American oak barrels
Alcohol: 14.5%
Price: Around $12
My tasting notes: Bright, sweet, candied berries on the nose with a little mint or menthol (or maybe its just the alcohol showing). Smells a lot like when you walk into a winery – a little overpoweringly ripe. On the palate it's fleshy with very extracted black fruit with a touch of earth. No structure or acidity to speak of – and it suffers for it.
Overall assessment: This is just too fruit-bomby for my taste these days. C
Free association: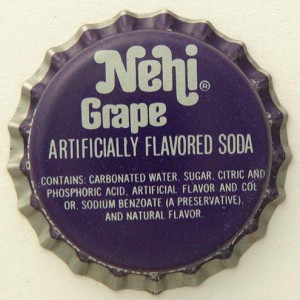 More info:
A wide range of responses to this wine from bloggers and others: Cork'd (avg. 88), CellarTracker (avg. 85), TasteWine, WineLife365, Wine Belly, La Jolla Mom and Goût Goût !! 味之道 (which is in Japanese so I have no idea whether they liked it or not, but I include it in case you read Japanese – plus, I just like seeing Kanji on my blog)
The back label has the following poem…
I'm raging with ire, an ocean of fire,
My Wrath is the path to all I desire.
Oh Lord, forgive me my Zins.
I'm inflated with pride, near-bursting inside,
A self-centered repenter, Vanitys' bride.
Oh Lord, forgive me my Zins.
I'm mired in mud, inert as a slug,
Sloth is the cloth that's woven my rug.
Oh Lord, forgive me my Zins.
I eat day and night, consuming all in my sight,
A Glutton with nothing but a huge appetite.
Oh Lord, forgive me my Zins.
My will I ignore, my Envy's a chore,
Over zealous and jealous, I want so much more.
Oh Lord, forgive me my Zins.
I'm ravenous to feast, an insatiable beast,
I concede to the Greed demanding release.
Oh Lord, forgive me my Zins.
I hunger for trust, my craving's a must,
My sin is the Zin enslaving my Lust.
Oh Lord, forgive me my Zins.
— Kevin Phillips
Not exactly Shakespearean, but I commend the effort. Better than "Drink with hearty meat or pasta dishes."
Also on the label: "Seven of Lodi's Best Growers gave their souls to produce this one of a kind sinful blend of seven old vine deadly zins." Sorry – bad trade.