Michael~David Winery Petite Petit 2007 Lodi

This wine was a press sample provided by Michael~David Winery.
Which came first the name or the wine? That's what I wonder when see that this wine is called Petite Petit for it's combination of Petite Sirah and Petit Verdot (and oddball blend to be sure). Clever name, but is that the best reason to blend these two grapes? Does it make oenological sense? Let's find out.
Producer: Michael~David Winery
Grapes: 85% Petite Sirah, 15% Petit Verdot
Appellation: Lodi (AVA, California)
Vineyards: no info
Vintage: 2007
Winemaking: The wine spent 14 months in French oak barrels.
Alcohol: 14.5%
Price: $18 (though I've seen it at Whole Foods for $14)
My tasting notes: Deep purple-black color. On the nose, I get blueberry, sweet tobacco, baking spices and just a touch of fresh earth. The palate delivers nice blackberry and vanilla cream flavors (maybe a little black cherry, too) with a bit of spice. It's smooth-textured, almost plush in the mouth with fine-grained tannins and decent acidity.
Overall impression: I'm not sure any magic came from the Petite + Petit combination (I didn't sense much from the Petit Verdot), but this is an enjoyable bottle of wine, firmly in the "fruit & oak" camp. B/B-
Free association: Speaking of odd combinations, the Dungeons & Dragons Monster Manual was full of them. Here's a favorite.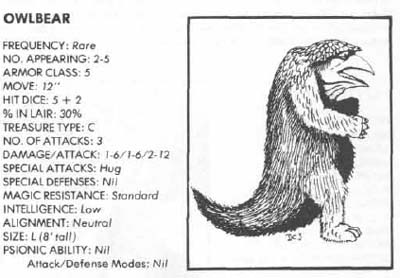 More info:
88 pts. Robert Parker
More reviews at Gabe's View, Wine is Life, What's New in Booze, CellarTracker, Snooth and Cork'd.
If you ever played Dungeons & Dragons as a kid (or even now – hey, no judging here) you'll love this series of Monster Manuel comics from one of the funniest people alive: Lore Sjöberg over at BadGods. The Owlbear one is here, though my favorites are: Orc, Chimera, Ear Seeker and Kobold.