I received this bottle as a sample provided by the winery.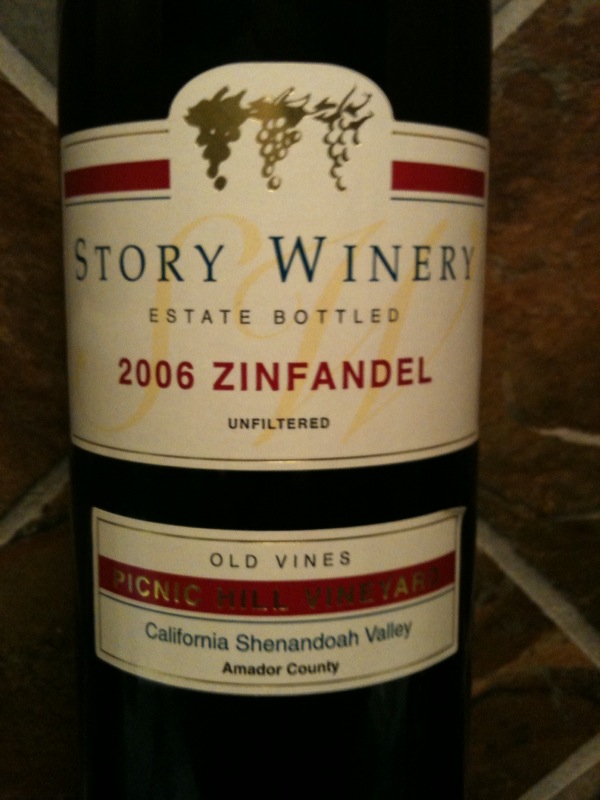 Producer: Story Winery (these guys own the www.zin.com domain, so they're serious about Zin)
Grapes: 100% Zinfandel
Appellation: Shenandoah Valley, an AVA within the Sierra Foothills appellation. Officially called "California-Shenandoah Valley" to distinguish it from Virginia's "Shenandoah Valley" AVA). Gold Rush country.
Vintage: 2006
Vineyard: The vines in the Picnic Hill vineyards were planted over 100 years ago. Them's seriously old vines, folks. Some wineries have 30 year old vines and call them old vines. These are Model-T old. Pre-forward pass in football old. Old old.
Winemaking: Aged 10 months in neutral French and American oak. Unfiltered.
Alcohol: a whopping 16%!
Price: $25 from the winery or Snooth.
My tasting notes: A very sweet-smelling, candied nose. There are beautiful raspberry/strawberry notes along with darker fruit. And something in there makes me think of the candied almonds you get at the fair. On the palate, the wine saturates my tongue with more sweet berry fruit and vanilla creme. The texture gets almost gritty toward the end (unfiltered). It finishes hot, though you don't feel it so much in your throat as in your esophagus.
Overall impression: Definitely from the high-octane school of Zin. I really enjoyed the seductive nose. This is a bottle to share with several friends at the end of the night. B-
Free association:
More info:
There's a video review of this wine at Organic Wine Review. They call it: "Berry Balanced for the BBQ"
Some others' reviews on Snooth.