Producer: Hanna
Grapes: 100% Sauvignon Blanc
Appellation: Russian River Valley (AVA, California)
Vineyards: From estate vineyards across RRV: Slusser 53%, Ricioli 11%, Brooks 11%, Gann Family 9%, Chalk Ridge 8%, Jensen Lane 3%, Crinella 2%, Mirabelle 1% and Gianquinto 1%. (I know all that vineyard detail doesn't tell you much about the wine, but I can't resist including it when the winery provides it on the website.)
Vintage: 2008
Winemaking: Stainless steel fermentation. 25% Malolactic fermentation. No oak — aged in stainless steel on the lees.
Alcohol: 13.8%
Price: $15
My tasting notes: Grass, melon and a very nice ripe pineapple note on the nose. It is quite tropical on the palate, with a good lemon-lime zippiness. Despite the crisp acidity it manages to feel slightly plush in the mouth and has good length.
Overall impression: A fruit-forward Sauvignon Blanc in the New Zealand mold. One of the better Cali SBs I've tried it a while. B
Free association: Pineapple and grass…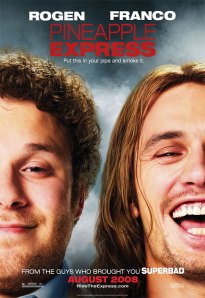 More info:
90 points from Wine & Spirits.
Other reviews at Wine Witch and Cellar Tracker (avg. 86.8).