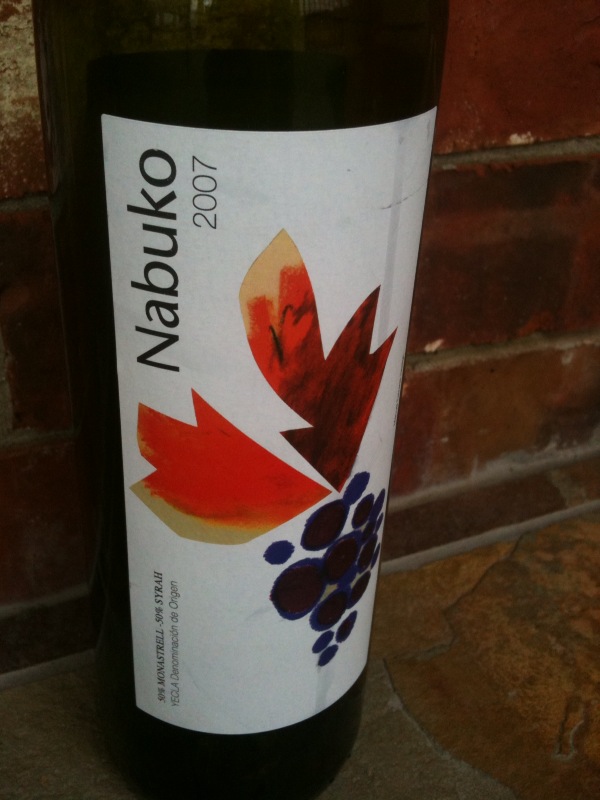 This is the tenth installment of Mourvèdre Monday. Click here for the other posts in the series.
We return to Spain for this week's Mourvèdre Monday post. And not only back to Spain, but back to the producer of Week 1's wine: the Barahonda 06 Monastrell. This is another wine in their lineup – this one blended with Syrah.
Producer: Señorio de Barahonda
Grapes: 50% Monastrell (Mourvèdre), 50% Syrah
Appellation: Yecla (DO, Spain)
Vineyards: High-altitude (2339 feet)
Vintage: 2007
Winemaking: A brief stint (3 months) in French oak
Alcohol: 14%
Price: $15
My tasting notes: On the nose, I get smoky wild berry fruit with aromatic herbs. A bit of cranberry juice cocktail and earthy minerality. It feels alive in the mouth with a prickly acidity, almost like your mouth feels after eating Pop Rocks. It dances across the tongue rather than coating it. The flavors are a bit richer and darker than that would suggest: plummy and chocolatey – almost like a chocolate soda. The green/herbal note from the nose sticks around here as well. On day 2, it's drinking very nicely. That initial prickly-ness is gone and the wine has smoothed out and feels more "complete".
Overall impression: Another enjoyable Monastrell – this one a bit more interesting and nuanced than some of the others. Not sure it's a "No Brainer" like the label says (that's what the NB stands for in the picture below), but worth checking out. B
Free association:
Photo credit: http://www.flickr.com/photos/fragmented/ / CC BY-NC-ND 2.0
More info:
90 points from Parker: "The 2007 Nabuko is a blend of 50% Monastell and 50% Syrah aged for three months in French oak. Purple-colored, the aromatics feature fragrant blueberries and blackberry. This is followed by a chewy, layered wine with spicy blue and black fruits and mineral notes making an appearance. Long and rich, this tasty, balanced effort can be enjoyed over the next 4-5 years."
More reviews at Johnston Spissinger Wine Blog, Honolulu Wine Scene and CellarTracker.