A recent post over at Benito's Wine Reviews got me thinking about rosé. I need a reminder every once in a while. Almost every time I drink one, I think, "Why don't I drink this more often?" Then I go back to my reds and whites. So, as I was contemplating what to pull from the cellar for this week's Mourvedre Monday post, I thought of this rosé (or, more properly, rosado – though they use the term rosé on the back label). I've been on the hunt for the red Monastrell from Castaño, which has been recommended to me by several folks following Mourvedre Mondays. I haven't found it yet in my local shops, but I did come across their rosé, which is how this ended up in my cellar to begin with. I haven't done a rosé yet in this series, so it seemed like good timing. Let's check it out.
Producer: Bodegas Castaño – a major producer in Yecla, owning about 10% of the vineyard land in the DO
Grapes: 90% Monastrell, 10% Garnacha
Appellation: Yecla (DO, Spain)
Vineyards: Limestone soils. 25-30 year old vines.
Vintage: 2007
Winemaking: Stainless steel aging (based on 08 info; no info on website about 07)
Alcohol: 13%
Price: Around $10
My tasting notes: The color is quite red for a nominally pink wine. Kinda like the color of red wine in TV sitcoms. (You ever notice that?) It smells like it's going to be a sweet wine — kind of a burnt sugary thing — but with some good juicy strawberry and raspberry aromas. Also some Slim Jim on the nose (Oh Yeeeeah!). Good weight in the mouth and some strawberry and apple skin notes, but some slightly oxidized flavors as well. Pretty awkward overall.
Overall impression: Not an especially pleasurable beverage. You can do way better than this. C-
Free association: The kind of rosé an undiscerning Stormtrooper might order.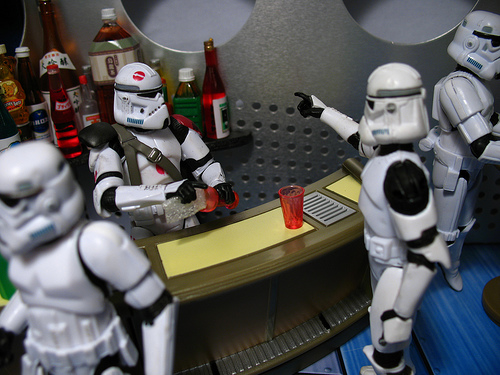 Photo credit: Greg Easton Photography (via Flickr). Be sure to check out the whole Adventures in Stormtrooping series and his other toy collections (prepare to lose an hour or two of your life!).
More info:
Imported by Eric Solomon.
Reviews at CellarTracker (avg: 81) and another at Chicago Vines Society, who liked it more than me.