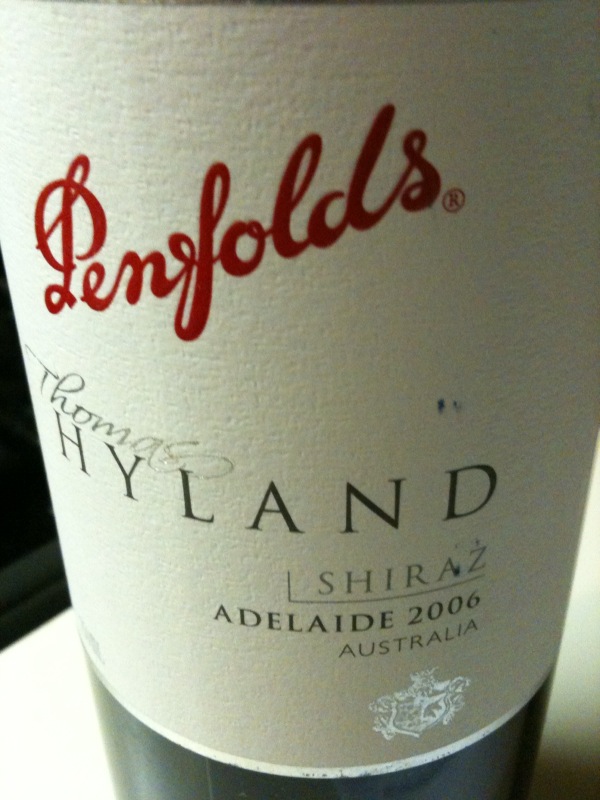 Aussie Shiraz is approaching Merlot-backlash territory in terms of becoming a wine style that some people wouldn't be caught dead drinking (à la Sideways). Maybe that's just in wine geek circles (not sure I have the most objective perspective on these things), but that's where it starts, right?
But there's usually a reason a wine style becomes popular: it tastes good. And that's what we have here, folks. A Shiraz that tastes good. If you like wine that tastes good, give it a try.
Producer: Penfold's, the Thomas Hyland series
Grapes: Shiraz (presumably 100%, though Penfold's website doesn't have current tech sheet)
Appellation: Adelaide (Australia)
Vineyards: It appears to be a blend from across the region, though no detail is provided on the bottle or website.
Vintage: 2006
Winemaking: They state on the website that there is some new oak used for this wine, but the latest tech sheet they provide is for the 2003 vintage, which states used French and American barrels were used. So who knows.
Alcohol: I failed to note it before recycling the bottle. And, again, the website let me down.
Price: About $12
My tasting notes: Nice, intense nose full of dark berry juice, white pepper and other spices, along with some stemmy/dusty notes. On the palate, the wine delivers dense dark fruit (spiced plum comes to mind) and soft, polished tannins. It may be a bit jammy, but there is some snap to it. It has decent length with an almost cinnamon gum finish.
Overall impression: I would happily drink this again. It may not be a cerebral wine, but it's very tasty and a nice example of its type, in my opinion. B
Free association: You know what else just tastes good? Hot dogs.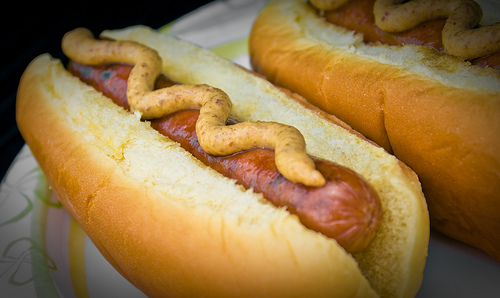 Image credit: http://www.flickr.com/photos/thebusybrain/ / CC BY 2.0
More info:
If you like 90-point validation, this wine got a 91 point review from The Wine News.
Other reviews at CellarTracker (avg: 88)