Trio Vintners, a collaboration between winemakers Tim Boushey, Denise Slattery and Steve Michener, is one of the "incubator wineries" set up at the Walla Walla Regional Airport. They are a small lot producer and one look at their lineup lets you know they're doing some interesting things: Zinfandel, Sangiovese, Syrah, Carménère and this Mourvèdre. Nary a Cab or Merlot in sight.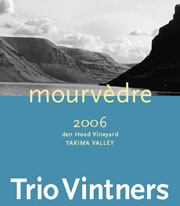 Producer: Trio Vintners
Grapes: 96% Mourvèdre, 4% Syrah according to the label. But on the info sheet they sent along with the bottle, there was this story…
Another thing that attracted us to this vineyard was that, as we walked through the vines, we noticed that every so often there was a vine with white wine grapes on it. Grower Art den Hoed told us he was surprised to learn that he ad been sold about 1% Gewürztraminer plants when he bought the Mourvèdre! He offered to pick around them at harvest but we insisted on preserving this accidental 'field blend' as part of the wine. So even though we don't say it on the label, they're in there, adding a flavor component that is unique.
I love them for that.
Appellation: Yakima Valley (AVA, Washington)
Vineyards: The Mourvèdre (and Gewurztraminer) came from the den Hoed Vineyard at 1300 feet above Yakima Valley. The Syrah came from the Rizutti Vineyard, which is in the Walla Walla Valley AVA.
Vintage: 2006
Winemaking: As they put it, they "aged the hell out of this wine." 20 month in oak, a mix of new Hungarian, 2nd & 3rd year American and neutral French barrels.
Alcohol: 14.5%
Price: $26 from the winery
My tasting notes: A very pretty nose. Soft berry fruit lifted by sweet spice/tobacco shop aromas and some floral accents (from the Gewürztraminer, perhaps?). I pick up a little smoke as well. I kept sniffing this one for a good 5 minutes before I took the first sip. On the palate, it pops with high-toned mixed berry fruit with a savory, peppery edge that I really like. An undercurrent of wet-rock minerality peeks through every now and then. The oak makes it's presence known as well. Finishes long, but the alcohol shows in a cool-mint kind of way.
Overall assessment: The nose is seductive and the wine delivers a lot of what I enjoy in Mourvèdre: the savory, earthy accents to the Zin-like berry fruit. I really enjoyed this, my first Washington Mourvèdre. B
Free association: They had me at Gewürz…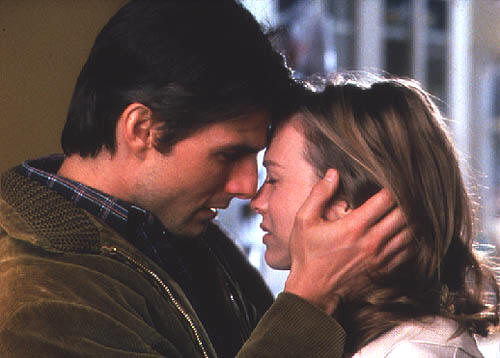 More info:
This bottle was a press sample provided by the winery.
Only 153 cases produced.
Thea over at Luscious Lushes reviewed this wine and liked it, too. Josh at DrinkNectar reviewed Trio's 2007 Tempranillo and 2007 Carménère.
On the Mourvèdre front, Trio also uses the grape in a very interesting blend that they call Riot. It's Sangiovese, Syrah and Mourvèdre. Cool.
You wine bloggers headed to Walla Walla for WBC2010 should definitely check this guys out.