Here's another Slovenian wine for the Oddball series. This one blends Welshriesling with Sauvignon Blanc. Welshriesling is not Rielsing with a funny accent. It's an unrelated (and inferior) grape grown in places like Austria, northern Italy, and a bunch of old Iron Curtain countries: Hungary, Bulgaria, Albania and Czech Republic. According to Oz Clarke's Grapes and Wines, it produces round, low-acid wine. Let's see how this one comes together with Sauvignon Blanc.
Marof Beli Križ 2007
Producer: Marof
Grapes: 65% Sauvignon Blanc and 35% Welshriesling
Appellation: Prekmurje (Slovenia)
Vineyards: The name Beli Križ means white cross, which refers to an actual white cross that stands at the point where the three estate vineyards that produce the grapes for this wine come together. The vineyards are: Bodonci, Grad and Mačkovci. Soils, depending on the vineyard, are volcanic or sandy loam.
Vintage: 2007
Winemaking: Stainless steel fermentation. No oak aging.
Alcohol: 12.5%
Price: $11.83 via Garagiste
My tasting notes: The wine is very pale in color. The nose is all stone & stone fruit aromas, with a light lemony perfume. There is also a slight nuttiness. More stone and stone fruit on the palate with a lemon-lime background note and the vaguest whiff of fresh green beans. It finishes very dry with decent length. Despite the lemony citrus notes, the flavors are soft, not aggressive. To my palate on this evening, it is a bit too soft – I could use a little more brightness and acid.
Overall impression: A very drinkable and pleasant wine. Based on the blend, and what I've read of Welshriesling, I can't help but think that I would enjoy the wine more with a higher percentage of Sauvignon Blanc. But it would be interesting to share with someone who finds most Sauvignon Blanc too aggressive and see what they think. Bonus points for getting to use a new diacritical mark on the blog. B-
Free association: Slovenia is in the same group as the USA in the 2010 World Cup. Their match is tomorrow. Let's hope their defense is as soft as this wine.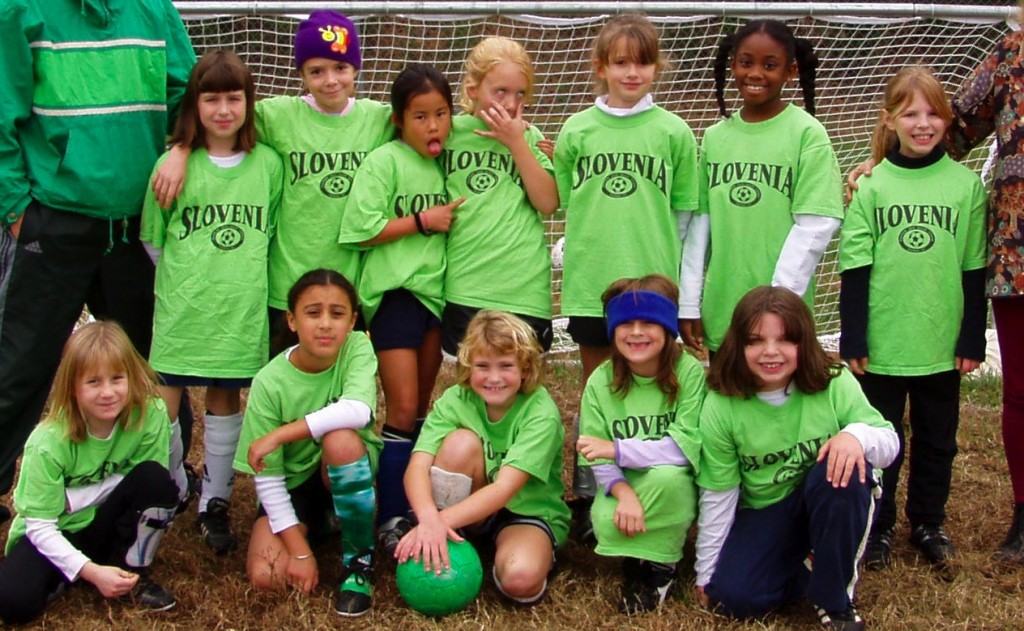 More info:
Other reviews at: CellarTracker (mean: 87.7), Cork'd and The Ancient Geek.