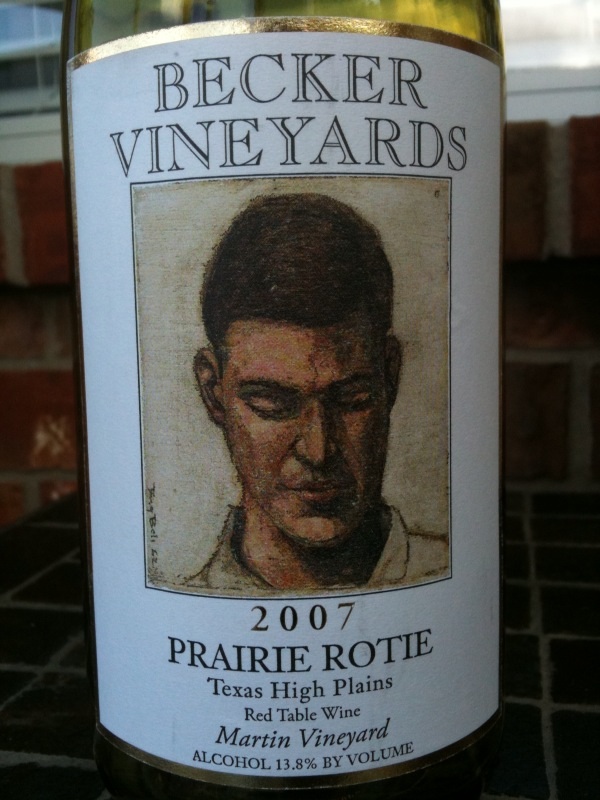 Mourvèdre Monday finally makes it to Texas. Becker is a big name in the Texas wine scene. I've tried quite a few of their wines over the years with mixed results. I had high hopes for their "Prairie Rotie" — a Southern Rhône blend of Mourvèdre, Grenache, Syrah and Carignan (though the name is a play on Côte Rôtie, which is a Northern Rhône appellation where the wines are either all Syrah or Syrah + Viognier). Let's check it out.
Producer: Becker Vineyards,whose winery and tasting room are in the Texas Hill Country near Fredericksburg
Grapes: 68% Mourvèdre, 14% Grenache, 12% Syrah, 6% Carignan
Appellation: Texas High Plains AVA – way up in the panhandle
Vineyard: Martin Vineyard
Vintage: 2007
Winemaking: This wine spent 9 months in new American oak barrels.
Alcohol: 13.8%
Price: $16.95 on Becker's website, but I believe I paid about a few dollars less at HEB (supermarket).
Tasting notes: This wine smells purple, grapey. Or like some imaginary Kool-aid flavor called Sparkleberry. Some sweet oak coming through pretty strong as well. Extracted, overripe berry fruit on the palate, coming across a little raw. The winery's description promisingly mentions forest floor and herbs and coffee, but I didn't pick up any of that in the wine. I grew bored of this very quickly.
Overall impression: A Texas winery taking pains to make and market this as a Rhône-style wine set my expectations to a way different place. I hope Becker (and others) continue working with these grapes here in Texas, but this particular wine didn't do much for me. C
Free association: