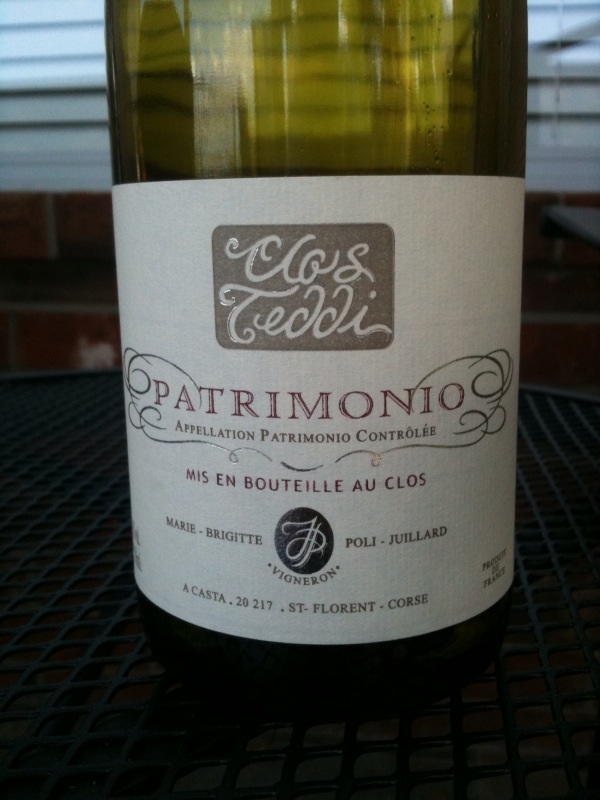 When I saw "Niellucciu" named as the grape on the back label — which looks to me more like a Scrabble rack than any grape variety I'd ever hear of — I bought first and asked questions later. Back home, Oz Clarke's Grapes and Wines — a must-own book in my opinion — revealed to me that Niellucciu is a Corsican grape that's identical to Sangiovese. Well, okay, so not a new grape to me. But French Sangiovese and the unusual synonym qualifies it for Oddball Wine of the Week. Let's check it out.
Clos Teddi 2006 Patrimonio
Producer: Clos Teddi
Grapes: 100% Niellucciu (Sangiovese) – hear it pronounced here
Appellation: Patrimonio (AOC, France) – the first AOC in Corsica
Vineyards: 25-35 year old vines in "granitique" sand in the Agriates desert. Farmed organically.
Vintage: 2006
Winemaking: 12 months in tank before bottling
Alcohol: 13%
Price: I paid $21.37 at Spec's in Austin
Tasting notes: Starts with a stout Old World funk. Meaty. Savory. Sweaty. But with a very nice sweet strawberry note at the core. On the palate, it's medium-bodied with more red fruit flavors and a tannic, plum skin note. Dry finish.
Overall impression: I enjoyed this quite a bit. That strawberry note on the nose really made this one for me. If you see it, give it a try. B
Free association: