I haven't experienced a lot of New World albariño, so I thought it'd give this one a try when I spied it at Costco. I'm glad I did.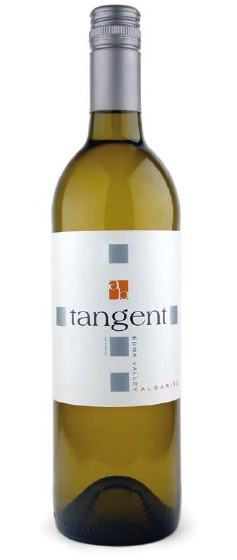 tangent Albariño 2008 Edna Valley
Producer: tangent (they seem to prefer the lowercase t). They're an intriguing producer focused on white varietal wines other than Chardonnay. Their lineup includes albariño, sauvignon blanc, riesling, pinot gris, pinot blanc, viognier and grenache blanc (and a blended bottling they call Ecclestone).
Grapes: Albarino (presumably 100%, though not certain from the website)
Appellation: Edna Valley (AVA, California). The Edna Valley sits very near the ocean and runs east-west, which makes it one of the coolest, most marine air-influenced wine regions in California.
Vineyards: From tangent's estate Paragon vineyard, which has earned the SIP™ (Sustainability In Practice) certification.
Winemaking: No oak and no malolactic fermentation
Alcohol: 13.5%
Price: $17 at Costco
Tasting notes: The nose is briny yet floral, with bright, full orangey citrus notes. (On day two, I swear I'm catching a hint of pumpkin, but maybe I'm just flashing back to Halloween pumpkin carving.) The palate is leaner and mineral-laden, with terrific acid.
Overall impression: A pretty wine, with serious backbone. B/B+
Free association: