Tuesday night I opened a bottle of Stickleback Red 2008 from the Aussie winery Heartland. It was a Costco grab that intrigued me with it's mix of grapes: the back label says it's a blend of 47% Cabernet Sauvignon, 44% Shiraz, 5% Lagrein and 4% Dolcetto.
Tastes more like 100% Smuckers.
This is a major dark berry fruitbomb. If that's your thing, this wine is a bargain at around $10. It delivers a lotta JAM for your HAM…ilton. (groan)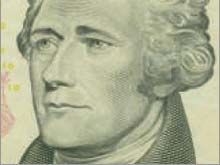 It was way too much for my Taco Tuesday dinner, but actually worked pretty well with dessert — a super-sweet s'mores-like brownie thing. If you're into drinking red wine with chocolate (me: not so much), this might be your new favorite wine.
I really wanted to like this because of the unusual blend, not to mention the oddity of Lagrein and Dolcetto in Australia at all, but this wine just isn't a style that appeals to me these days.