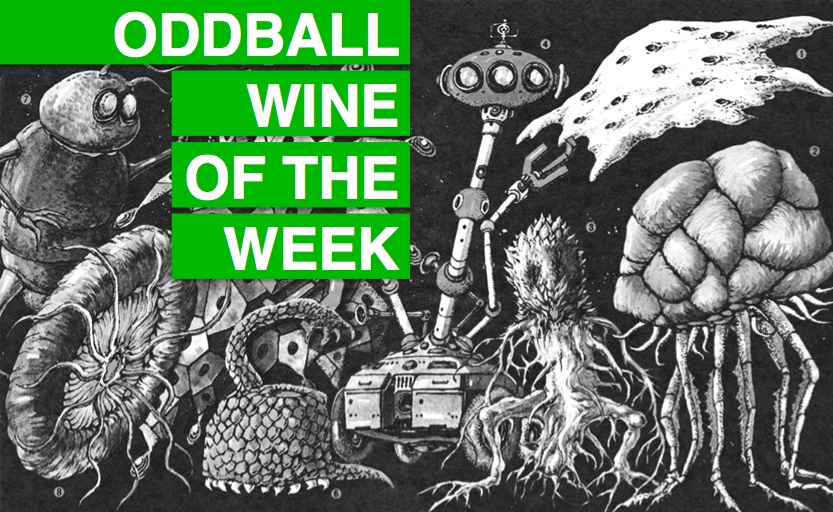 I'm always game to try something unusual when it comes to wine. On this blog you'll see as much Baga as Bordeaux, as much Tannat as Tuscany, and more Mourvèdre than Merlot and Malbec combined. So you know when I had a chance to taste a Tempranillo Blanco, I was all over it. That's right, white Tempranillo. Not white as in "white" zin, but white as in not red. The grapes themselves are not typical red Tempranillo, but a white- (well, green-) skinned mutant.
Producer: Bodegas Juan Carlos Sancha 'Ad Libitum'
Grapes: 100% Tempranillo Blanco
I'll let Wikipedia tell the tale:
In 1988, Jesús Galilea Esteban found a cluster of white grapes on one of the Tempranillo vines in his vineyard, Murillo de Rio Leza, located in Rioja. He removed the cluster, leaving a heel which in turn produced two buds of white grapes. Galilea then contacted the Rioja government agency CIDA, who grafted the buds at their research station in February 1989.

CIDA concluded that apart from the leaves and fruit being a little smaller, the new plants were identical to normal Tempranillo in most respects, and confirmed this with DNA evidence. The most notable difference was that the grape skins were green-yellow rather than the usual blue-black, due to a natural mutation in a single skin colour gene. Similar mutations appear to have happened in many other grape varieties, such as Pinot Noir and Grenache.

CIDA, once the mutation had stabilized, expanded their collection to 100 vines in 1993, and started to make wine on an experimental scale. The first bottling of wine was in 2005, from a hectare of vines planted in 2000. It was fermented in stainless steel tanks and aged in oak barrels. The green-tinged wine had discreet aromas of flowers and tropical fruit such as pineapple, refreshing to drink but lacking a little in acidity. White Tempranillo is currently being distributed to growers having been registered with the State and approved for use in the Rioja D.O.Ca.

Appellation: Rioja
Vintage: 2009
Vineyards: Organically-farmed 1.5 hectare vineyard with clay and limestone soils. Dry-farmed.
Winemaking: Stainless steel fermentation. Native yeasts.
Alcohol: 13%
Price: I paid $16.83 via Garagiste. Closer to $25 online.
Tasting notes: I had no idea what to expect with this one. It starts off with a bold, aromatic nose of stone fruit and petrol. On the palate, it's an intriguing mix of peach, plum skin and nuttiness with a pleasant bitter note. It has an oily palate presence and finishes long.
Overall impression: A must-try wine for the wine geek set. B+
More info:
A good read from 2009 in Decanter on "the rise of indigenous grape varieties" in Rioja.
Image used in Oddball Wine of the Week header found here. If anyone knows the original source, let me know and I'll credit.