Here's a sextet of wines from Trione, tasted from 50ml Tasting Room samples.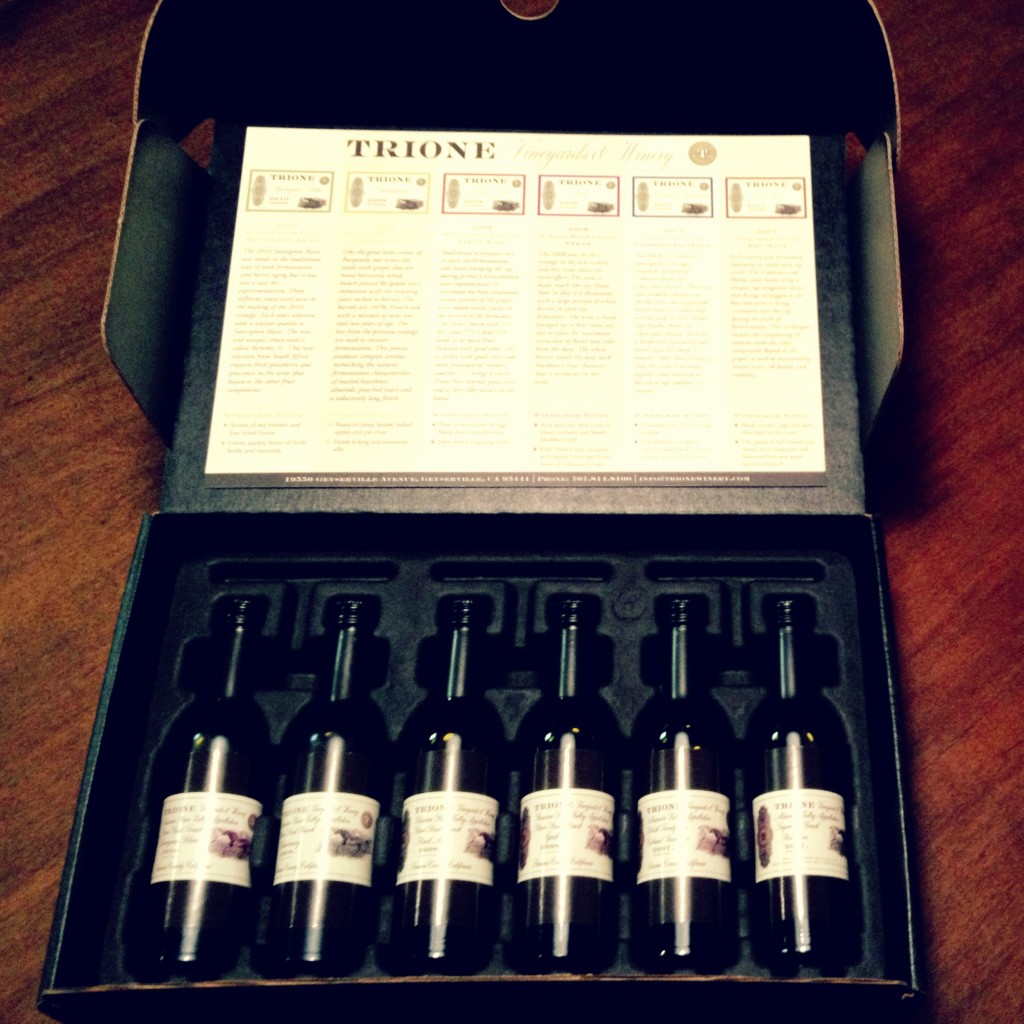 Trione 2010 Sauvignon Blanc Russian River Valley
Pungent nose calls to mind fresh-cut grass. Bright lime flavors with a saline quality (tequila shot?) and sharp acidity. It has a persistant, mineral finish. Some might find it too lean for their tastes, but I think it's quite good. Off to a great start.
Trione 2008 Chardonnay Russian River Valley
Buttery baked goods & melon, creamy on the palate apples and  I feel the oak more than taste it. For a buttery Chard, it's strikes me as not unreasonably so. Another long, resonant finish.
Trione 2008 Pinot Noir Russian River Valley
Pow! Sweet raspberries right in the kisser. In fact, my mind immediately goes to Bonny Doon's old Framboise. With time and more swirling, I start to catch signals of earth.The red berry notes carry through to the palate, now enrobed in sweet oak. Combed cotton texture and a long finish. Pretty amped up for Pinot, I have a feeling it might have complexified with more time. This was one where I really missed having a full bottle to taste over more time.
Trione 2008 Syrah Russian River Valley
Complex, earthy/funky nose with plenty of dark fruit/dark chocolate/cherry cola notes as well. Oak, too. Seeps into your tongue like it's setting up shop, like it's eyeing squatter's rights. (firm tannins). Slightly gritty. Blackberry
Trione 2007 'Block 21' Cabernet Sauvignon Alexander Valley
Green and leafy, black currant, black tea on the nose. The nose has me expecting something lean & mean on the palate, but I get something confected and sappy. Raisins & currants. This one crosses an invisible line (which the plenty-intense Syrah above did not) that sets off my FRUIT BOMB radar. Many would like this, but not a style I reach for these days.
Trione 2007 'Red Wine' Alexander Valley
Dark fruit with clear hints of chile pepper and tomato, which I find quite appealing. Fruit-punchy on the palate, but with sinister intentions. Grippy tannins. Finishes long, but a bit hot.
—
I'm not sure what I expected (or why), but I was pleasantly impressed by these wines. The cab wasn't my style, but I would happily drink all the other wines again. The standouts for me are the Sauvignon Blanc and the Syrah. Give Trione a try.
—
These wines were provided by the winery as samples for review.
—
This was my first experience receiving Tasting Room samples. A few thoughts on the format:
For the most part, I enjoyed the format. I got a good sense of each wine (more than I'd probably get standing in a tasting room.) without feeling guilty about having a bunch of mostly full bottles left over.
A few times, I actually struggled opening the teeny-weeny screwcaps (it was hard for me to get a good grip on them).
Unless you want to wash six Riedel stems, you'll probably do what I did and stick to one glass. When I do that, I typically prime/rinse the glass with a bit of the next wine in the queue. That's a bit painful when you only have 50ml to start with.