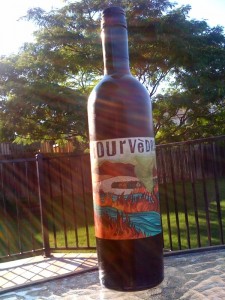 Mourvèdre has been a favorite of mine for a long time, probably due to my early attachment to Cline Cellars (see previous posts), one of the few California wineries to focus on the varietal. I liked (and still like) its ability to produce dark, brooding fruit flavors with an Old World earthiness. Nice write-up on the grape here.
Bonny Doon Vineyards is a wine geek's dream. Not only do they champion "ugly duckling" varietals and innovative techniques (biodynamics, screwcaps, putting grapes in a freezer to make ice-wine), but "president-for-life"/winemaker Randall Grahm is as interesting as they come. Cleverness coats everything they do, from the wine labels to the names of the wines to the winemaker's notes (which will send you to Google to try to understand all the literary/philosophical/scientific references). I used to belong to their DEWN (Distinct Esoteric Wine Network) wine club, which they use for their most experimental efforts. In the 2 years or so that I was a member, I received a grenache blanc, a grignolino d'Asti, a spumante of erbaluce, a barbera/arneis, dolcetto, cinsault, chenin blanc, cab franc, barbera, an angelica and more. Good geeky fun and some very tasty wine.
Producer: Bonny Doon Vineyards (for its DEWN wine club)
Grapes: 100% Mourvèdre
Appellation: Contra Costa County (AVA, California)
Vineyards: old vines in the Sacramento River Delta region
Aging: unknown
Alcohol: 14.2%
Price: Not sure. Part of my DEWN club shipment in Feb. 2005 … probably $20-25
My tasting notes: Dark purple color, but not opaque. Roasted fruit and meaty/animal aromas on the nose. In the mouth, it is medium-bodied with red and black fruit flavors framed with earth and mineral characteristics. Good acidity and a lengthy finish.  This wine rewards contemplation, and I'm enjoying it more and more with each taste.
Assessment/grade: This wine has lots of interesting earthy/mineral/meaty notes while retaining an appealing fruit character.  That makes it a winner for me.  B+/A-
Free association: