National Breast Cancer Awareness Month is winding down and pink has been everywhere. Even the NFL got in on it in a big way. So maybe that's why I noticed this wine on an end-cap display at my local supermarket. It's from Cline Cellars (a winery that regular readers will know I am a fan of) and it has a pink ribbon on the label. Cline is a supporter of the Breast Cancer Network of Strength Ride to Empower, and a portion of the proceeds from sales of this wine goes to this cause.
Cline 2007 Cashmere
Producer: Cline Cellars
Grapes: 39% Grenache, 38% Syrah, 23% Mourvèdre
Appellation: California
Vineyards: Most of the Grenache comes from the Massoni Vineyard in Oakley. The rest of the Grenache and all of the Mourvèdre comes from the Big Break vineyard (also in Oakley). Big Break is one of Cline's ancient vine vineyard jewels, with 80-120 year old gnarly, head-pruned vines in sandy (phylloxera-resistant) soil. The Syrah comes from Paso Robles.
Winemaking: Stainless steel fermentation. 9 months in dark-toast French oak (25% new).
Alcohol: 14.5%
Price: $15-16 retail
My tasting notes: A pretty violet-red color. The aroma is all sweet, creamy oakyness. On the palate, I'm immediately struck by the smoothness of this wine – Cashmere, indeed. It has luscious plummy, red berry, and blackberry flavors, with vanillin oak and spice accents. A touch of mint on the finish, which comes from the influence of a eucalyptus grove adjacent to the Big Break vineyard. Tasty stuff.
Overall impression: If you really don't like oak-influenced wines, this probably isn't for you. But it's just plain delicious. I think this will be the wine I recommend the next time I get asked by a non-wine nerd for a good bottle. It's very easy to drink, has terrific mouthfeel and I don't see anyone not liking it (except the oak-haters). B+
Free association: This probably isn't fair to Cline and their very nice wine, but I couldn't resist once I saw this. The dresses below are from a fashion show put on by Canada's top-selling brand of bathroom tissue: Cashmere. The dresses are "crafted entirely in 100 per cent pure, soft and luxurious sheets of Cashmere Bathroom Tissue." The fashion show is part of a campaign to raise awareness and funds for the Canadian Breast Cancer Foundation.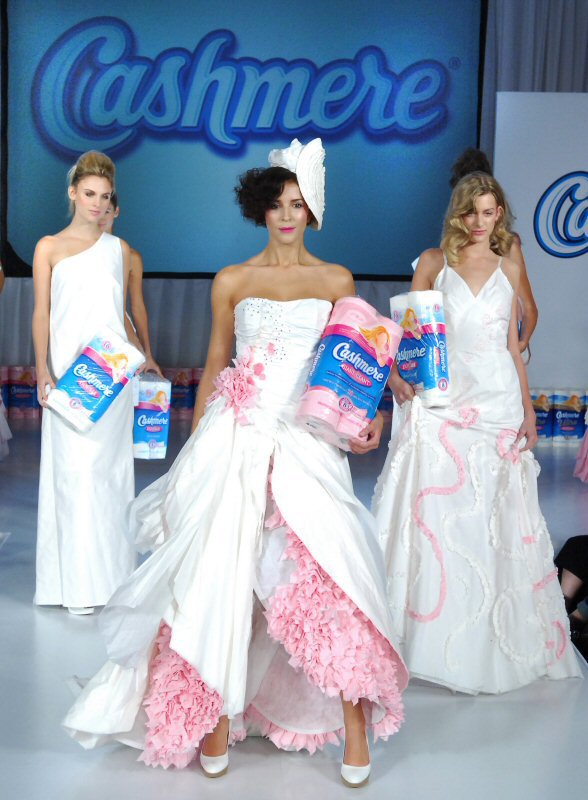 More info:
The winery's tech sheet.
For more info and photos from the fashion show, click here.