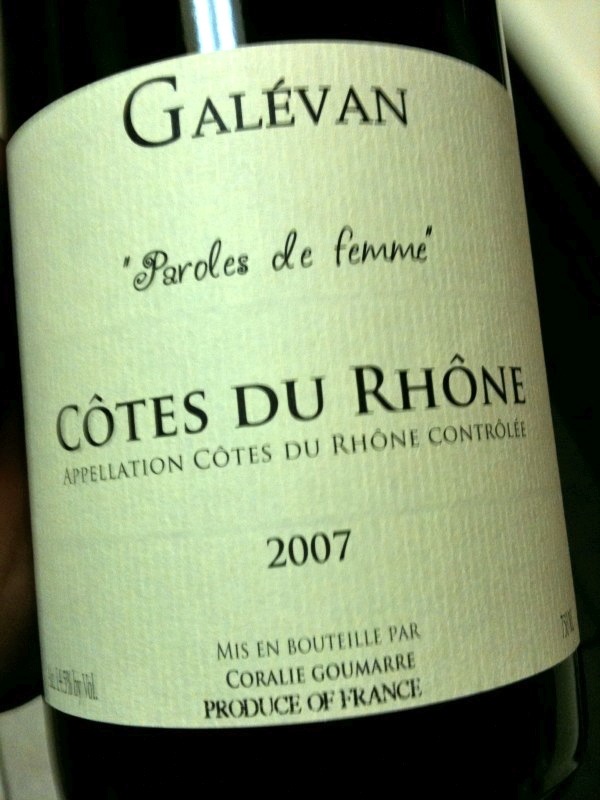 This one is exciting! It was a quick grab from the Costco shelf. I'd never heard of it, but was in the mood for some Rhone action. Little did I know that lurking behind this boring label would be one of the tastiest little wines I've had in months.
Galévan 'Paroles de femme' 2007 Côtes du Rhône
Producer: Domaine Galévan
Grapes: 70% Grenache, 20% Mourvèdre and 10% Cinsault
Appellation: Côtes du Rhône (AOC, France)
Vineyard: "stony soil" according to the label
Winemaking: No info on the winery's very basic website. The winemaker is Coralie Goumarre.
Alcohol: 14.5%
Price: Around $10-12 at Costco in Austin UPDATE: I went back and it's only $7.99!
My tasting notes: Deep, dark color. The nose is full of iron and graphite and dark fruit and figs and coffee – it makes me want to use the word "redolent" and I'm not the kind of guy who uses the word redolent. With coaxing, I also get this really nice, bright, beautiful raspberry note. In the mouth, there is dark fruit, but the primary flavors are savory, herbal, earthy. There is a spicy, black pepper note on the back-end as well. It finishes a touch hot, but the rest is so nice, I barely notice. I am really digging this wine. It's layered but light on its feet. It's pushing all my buttons.
Overall impression: A great wine for the price. This is why I love trying Côtes du Rhône wines. Good luck trying to find something this interesting from California at this price. Buy it. Buy it. Buy it. (If you're in Austin, please wait until I've had a chance to get back to Costco) A-
I know that I've never really explained my rating system. In simplest terms, it's a rating of my enjoyment of a wine not an attempt at an objective assessment of "quality" vis-a-vis the greatest wines on the planet. I'll try to post a fuller explanation of the rating system soon, but suffice it to say… I really like this wine.
Free association: This wine makes me want to do the Balki Bartokomous 'Dance of Joy'.

More info:
More tasting notes at CellarTracker.
Serge the Concierge posted about Coralie and Domaine Galevan a few months ago.
CWNSXJFRQDFZ