I only became aware of this Spanish wine region back in July from Eric Asimov's terrific article in the New York Times. Take a few minutes to click through and read it. Go on. I'll wait here.
Ok, pretty cool, huh? Remote/undiscovered wine region. Indigenous grapes. Ancient wine-making tradition. Dramatic terrain. Winemakers who care about doing it the "right" way. The line that really got me was the quote from one of the region's winemakers, who said: "There are two types of winemakers: those who want to make money and those who want to make wine." Come on. It's almost too good to be true.
Ever since I read the article, I've been on the lookout for one of these wines and I found this one at the Austin Wine Merchant. Let's see if it lives up to my romanticized expectations.
Viña Caneiro 2007
Producer: D. Ventura
Grapes: 100% Mencía (once thought to be same as Cab Franc, but not so)
Appellation: Ribeira Sacra (DO, Spain)
Vineyard: Vina de Doade. 80+ year old vines on steep terraces above the river Sil. Slate/Losa soils.
Vintage: 2007
Winemaking: Stainless steel fermentation with indigenous yeasts. Unfiltered.
Alcohol: 13%
Price: $26
My tasting notes: The wine serves up minerally, dusty, slightly green aromas on top of red fruit. In the mouth it's medium-bodied with a silky, polished texture and bright, clear, fresh fruit that's "sweet" without been candied. There is a strong mineral, smoky and herbal character to the wine that is just a great balance and accent to the juicy fruit. Really nice.
Overall impression: I'd love to split a bottle of this with someone who drinks mostly big, dense, high-alcohol red monster wines and turns their noses up a "lighter" reds. I think this one is pretty seductive. As is the backstory. By all means, try to find this wine and re-read the NYT story while you enjoy it. A-
Maybe that's a bit high, but I'm digging this wine tonight. Also, it's not exactly a bargain at $26 …but I'd like to see you farm those terraces.
Free association: As regular readers know, my free associations are usually not very literal; they're often metaphorical, geeky and/or obscure. Here though, my mind is just stuck on those amazing terraced vineyards and the idyllic story. So…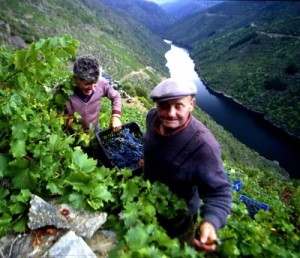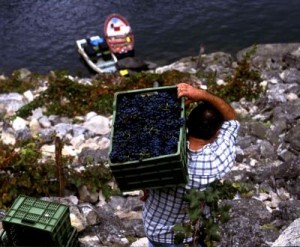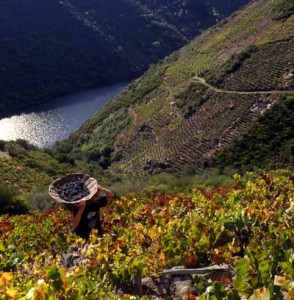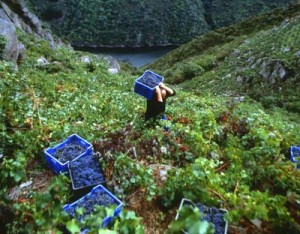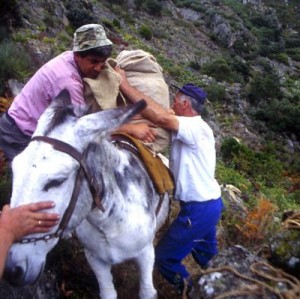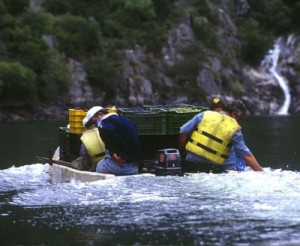 Photos from RibeiraSacra.org.
More info:
500 cases produced.