This is the fourth installment of Mourvèdre Monday, VINEgeek's yearlong deep-dive into the Mourvèdre/Monastrell/Mataro grape. Check out the other posts in the series here.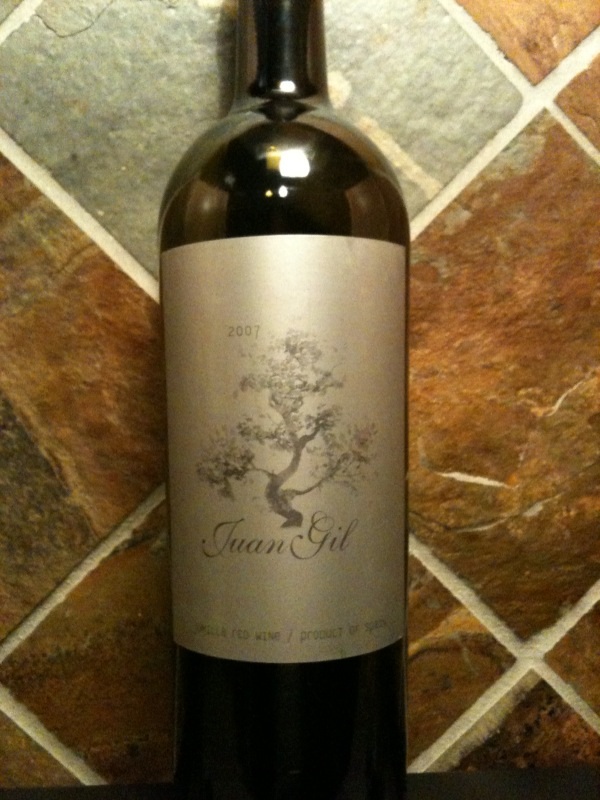 After I announced that 2010 would be The Year of Mourvedre here at VINEgeek Enterprises, I got lots of great recommendations from my fellow winos. This bottle was suggested by @Sonadora of Wannabe Wino blog.
Producer: Juan Gil
Grapes: 100% Monastrell (the Spanish name for Mourvèdre)
Appellation: Jumilla (say who-ME-ya)
Vintage: 2007
Vineyards: From estate vineyards of 40+ years of age. Soil: "shallow, chalky soils on a bed of limestone and rock"
Winemaking: 12 months in French oak barrels (not sure what % new)
Alcohol: 15%
Price: I paid $12 at Spec's in Austin.
My tasting notes: Very deep color. On the nose I get dusty red and black fruit accented by a rich, chocolate/mocha note, mint and a spicebox character. There's also a touch of greenness, as if you could smell the grape stems. In the mouth, it delivers ripe plummy/blackberry fruit, a brighter blueberry note and a touch of earth with chewy, grippy tannins in a full-bodied package. Enough acid on the finish and good, spicy length, though the alcohol can be felt in a sort of cool-mint kind of way. It really opens up with time in the glass and on the second day.
Overall impression: A rich, heady mouthful of flavor that avoids crossing the line into fruit bomb territory, yet delivers "oomph" for a reasonable price. B/B+
Free association: Something about this wine makes me think of Mr. T as B. A. Baracus. According to Wikipedia, in Spain he was known as Mario Baracus. Awesome.
More info:
This wine was scored 90 points by Josh Raynolds, for Stephen Tanzer's International Wine Cellar.
Check out the chalky soil and gnarly vines (note: I don't know for sure if this photo is of the vineyards used for this bottling or other Juan Gil bottles):