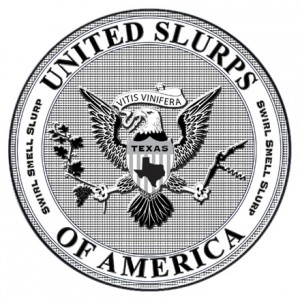 I had the pleasure of participating in Swirl Smell Slurp's United Slurps of America: Texas. Each week they taste some wine from one of the 50 states and invite a blogger or two from that state to taste the same wine and share their thoughts. My blogger-pal Ben from Vinotology was the other Texan to join in the fun.
We all tasted two wines from Mandola Estate Winery: the 2008 Vermentino and the 2008 Montepulciano. That's right, folks – Italian grape varieties in Texas. (Mandola was started by Damien Mandola, a successful restauranteur and cookbook author. The winery is on the same property as their terrific Trattoria Lisina out in Driftwood, TX.) While I truly applaud the gumption of Texas winemakers and winegrowers who aren't just planting Cab, Chard and other "shelf-appeal" varieties, I have to admit that I did not have high hopes that the wine would be anything special. My experience with Texas wine (albeit limited) has been pretty spotty to date, with very few wines that I'd seek out again.
Below are my notes on the two wines, but please do click through to the full post at Swirl Smell Slurp to see what everyone else thought.
Mandola Estate Winery Vermentino 2008 Texas
Somewhere in between typical Sauvignon Blanc and Chardonnay in color. A bright, juicy nose: a lot like Juicy Fruit gum, in fact, (even the little foil wrapper). Plus a bit of pineapple, perhaps. Nice and crisp on the palate, bringing grapefruit and more pineapple, but not full-on pineapple, more like if you had a fruit salad and the last piece in the bowl was a piece of pear that had been soaking up the pineapple juice at the bottom of the bowl. Something like that. It finishes crisp and clean with a hint of green/grassiness, leaving you wanting another sip. I had pretty low expectations, but this is very solid white wine that I'd be happy to drink again. Definitely one for me that would surprise people in a blind tasting. B/B+
Interestingly, the grapes for this one come from Bingham Family Vineyards near Lubbock in the Texas High Plains (where Ben lives), while the Mandola winery is just outside of Austin (where I live).
Mandola Estate Winery Montepulciano 2008 Texas
It smells like a Tuscan wine with its dusty cherry fruit and a sharp earthy, herbal quality. But there is also an aroma that I can't really describe, but I that associate with not-ready-for-primetime wines I've tasted in many a tasting room in Texas and elsewhere. On the palate, I get more Sweet-Tart red fruit, sort of like a two parts cherry, one part cranberry blend. Medium-bodied and smooth-textured. It's totally drinkable, but not something I'd seek out again. C
—
I hope that the "not-ready-for-primetime" comment doesn't come across too harshly, because the Vermentino proves to me that they know what they're doing at Mandola. All-in-all this tasting showed me that I shouldn't be so dismissive of Texas wines. And I'm doubly excited that I found a very good one so close to home (Mandola is about 20 minute drive from my house)!
Thanks again to Swirl Smell Slurp for inviting me to participate and waking me up to wines in my own backyard. Cheers, y'all.