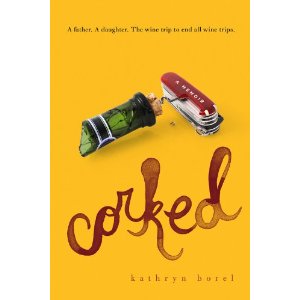 I received this book as a sample and thought "This could be interesting." Father-daughter road trip through France, hitting all the classic wine regions (except Bordeaux – "Fuck Bordeaux" as they say in the book). Should be fun.
Memoirs can be hit-or-miss, though. And if you don't connect with the author's "voice" it can be tough sledding. And I did not find myself connecting with Ms. Borel, her inner torment or issues with her dad.
Basically, Ms. Borel has some issues, her wine-loving overbearing dad has some issues and she joins him on this "wine trip to end all wine trips" hoping it will help them connect. Now, I knew this was a memoir, not a wine book, but the wine felt REALLY secondary to the angst here. I hung in there, hoping to get to some good wine-geekery or even some good armchair travel, but those moments were too few and far between for me. In a way, it reminded me of Julie & Julia, the memoir by Julie Powell about an unhappy woman who decides to cook her way through Julia Child's The Art of French Cooking. That book, too, was a bit to angst-y for me. But if you like that book, you very well could like this one.
I'm going to see if I can talk my wife into reading and reviewing this book here on the blog. As a fan of the memoir (travel and otherwise), she may have a different take.
I have an extra copy of the book, so let's do a little giveaway. Leave a comment about a memory you have of (1) your parents and wine or (2) a wine-related road trip. I'll put all commenters names in a hat and draw a winner and ship you the book.
(If you've read the book, I'd love to hear your thoughts as well.)