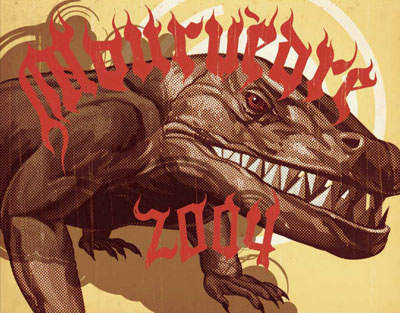 Opening one of Randall Grahm's wines is always an event for me. I had the 2003 version of this wine in my cellar for 4 or 5 years before I gave in to temptation and pulled the cork; I was not disappointed. Though this is a 2004, I didn't have to cellar it for half a decade. It was a special release from "Randall's Closet of Curiosity" made available to DEWN members earlier this year.
Producer: Bonny Doon Vineyards
Grapes: 100% Mourvèdre
Appellation: Says Central Coast on the bottle, but the info in the winery newsletter suggests it's from Contra Costa County (perhaps not within that official AVA?). CCC has some of the oldest Mourvèdre vines in California.
Vineyards: Rose Vineyard – very old vines in sandy CCC soil
Vintage: 2004
Winemaking: couldn't find any details here other than that they use "a light touch in the cellar"
Alcohol: 13.5%
Price: $18
Tasting notes: After some initial funk blows off, the nose is all crushed rock and raspberries with a smoked meat note. On the palate it has good acid and bright flavors with more red berry and cherry fruit, but with a dark streak (hinting toward blackberry and plum). It's like a gourmet Jolly Rancher, if there were such a thing (and there should be — get on that, Thomas Keller).
Overall impression: I'm digging the minerality on the nose and the overall purity of the wine. Really good stuff. B+
Free Association: Isn't that a badass label? I want that on a t-shirt. It reminds me of this Lizard Man drawing from the old D&D Monster Manual.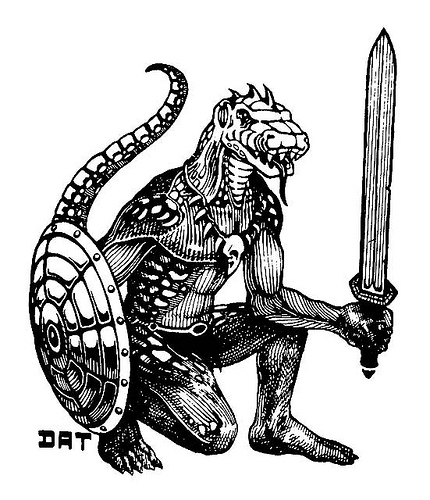 More info:
CellarTracker reviews (avg: 87 pts)